Articol
Prevalence of diagnosed/highly symptomatic pachyonychia congenita (PC) patients managed annually by US Dermatologists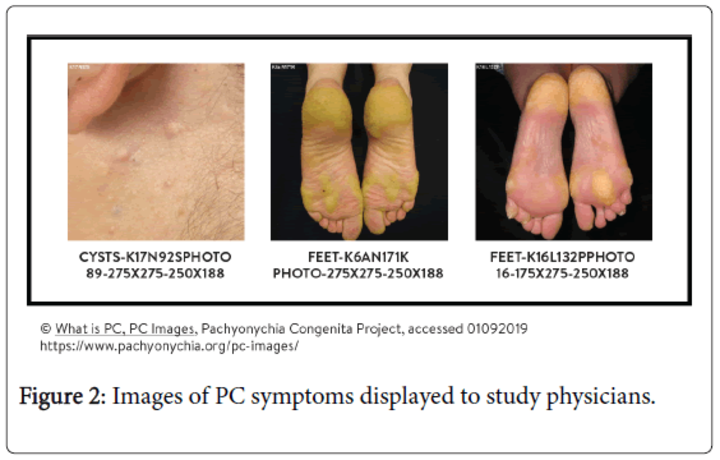 Authors:
Jack R Gallagher1*, David Lapidus2, Kylee Heap1 and Susan Carroll1
1Clarity Pharma Research, LLC, Spartanburg, South Carolina, USA
2LapidusData, Inc., Brookline, Massachusetts, USA
Source:
Dermatology and Dermatologic Diseases
Abstract

Background:
Pachyonychia Congenita (PC) is a chronically debilitating and lifelong genetic disease that typically causes constant, disabling pain. PC appears to be rare, but its prevalence is unsubstantiated by large-scale epidemiologic studies. We conducted the first national prevalence study of a cohort of PC patients, those managed annually by US dermatologists.
Methods: Potential study participants were randomly selected from a national panel of patient-care dermatologists and invited to participate in a brief study of a patient condition that would be disclosed at the study website.
Results:
Of the 423 dermatologists contacted, 400 participated, of whom 53% reported managing at least one PC patient during the past 12 months, an annual prevalence of 6.4/10,000 patients (extrapolated to 8,900 to 9,800 nationally), according to the study model.
Conclusions:
Study findings indicate PC is likely to be far more prevalent than previous estimates in the literature and that the frequency and level of disability caused by pain-related symptoms may be under-recognized by the treating dermatologist. Additional research is needed to determine the extent to which PC diagnosis has been or could be genetically confirmed.
Keywords:
Pachyonychia Congenita (PC); Prevalence; Real World; Epidemiologic survey
Read the whole study in the PDF file BELOW
Copyright:
© 2019 Gallagher JR, et al. This is an open-access article distributed under the terms of the Creative Commons Attribution License, which permits unrestricted use, distribution, and reproduction in any medium, provided the original author and source are credited.
Fișiere atașate
prevalence-of-diagnosedhighly-symp...