Articol
Side effects after artificial hair implants: 2 case reports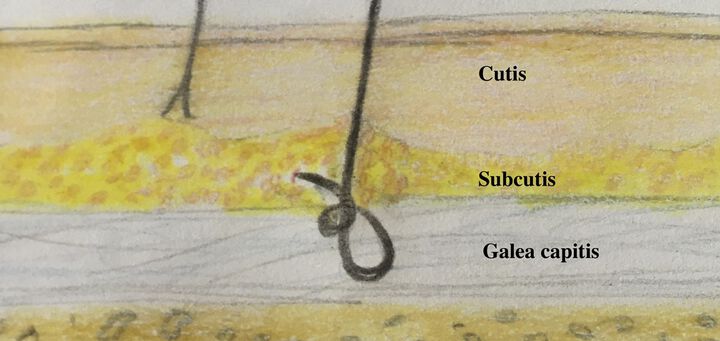 Authors:
Charlotte N€aslund-Koch, MD,a Jacob P. Thyssen, DMSc,a,b Claus Zachariae, DMSc,a,b
Signe Ledou Nielsen, MD,b,c and Lone Skov, DMSca, Hellerup and Copenhagen, Denmark
Source:
JAAD Case Reports 2020
2020 by the American Academy of Dermatology, Inc.
Published by Elsevier, Inc. This is an open access article under the CC BYNC-ND license
Introduction

Hair loss is a major problem for patients, and treatment of hair loss is a great challenge for doctors. In the 1970s, a new technique using artificial hair was introduced. Because of unsuitable materials and techniques, frequent severe adverse events were seen. As a result, the US Food and Drug Administration banned implantation with industrial fibers in 1983. In 1993, biocompatible fibers – biocompatible artificial hair (Biofibre®, Medicap®, Carpi, Italy) were developed, and clinical trials were performed with encouraging results. Therefore, the Council concerning Medical Devices in the European Union recognized the artificial hair implant technique as a medical act in 1996.

Biocompatible fiber is a polyamide fiber, which is 0.08 to 0.09 mm thick and 160 to 460 mm long. The implant technique is a surgery technique, performed by either a manual implanter or an automatic machine, under local anesthesia. A small hooking needle places the root of the fiber under the scalp at galea level (Fig 1) where the root can be held by fibrous tissue.

The root is a reversible knot that ensures correct anchorage of the implant and allows total fiber extraction. With the appropriate traction, each fiber can be pulled out entirely with no residue in the scalp. if needed in case of nontreatable side effects or unsatisfied result.
Fig 1
Schematic picture of a biocompatible fiber. Anchorage of the fiber with the reversible knot under the scalp at galea level.
It is important that patients are properly selected; biocompatible fibers are not indicated in patients with risk of infection, autoimmune diseases, or chronic scalp disease including nonstabilized alopecia areata.

All patients should initially receive the implant with only a small amount of fibers to secure tolerance. If tolerated, larger sessions can be added. An average implant of 600 to 1000 fibers per session is often appropriate, performed at intervals of 1 month.

An average amount of 2300 fibers is implanted per patient in total, varying depending on the size of the treated area. Spontaneous fiber loss is often less than10% per year. Follow-up and proper aftercare are essential to prevent possible complications such as infections and inflammation.
Key words

alopecia; artificial hair implants; baldness; biocompatible fibers; biofibre; hair implant; side effects; treatment
Case report
Here we describe two patients with complications to artificial hair implants.
Read the whole article in the PDF file BELOW